"Are you stupid?"
A genuine question from a genuinely lovely friend.
We'd had a few drinks admittedly, and I was telling her about going on a climate change march in central London with O at the weekend.
She didn't understand what good it would do.
Why bother?
It won't change anything,
No one's going to listen to you.
Nobody cares.
It's hard to convince the unconvinced that there's a point to protesting. The apathy amongst my generation is palpable. And the UK government has done much over the last couple of decades to discourage people from gathering en-masse, even peacefully.
Ten years ago, if you wanted to stand up against climate change, there was every chance you'd get 'kettled' into a small space for hours at a time with no water, rest or respite. Fortunately, the kettling of the G20 climate protesters in 2009 was deemed unlawful and The Met charged with being overly heavy-handed in punching, slapping and pushing protesters.
Still it's fair to say that, until recently, protests were no place for a small child.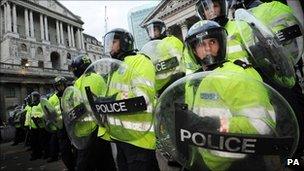 Rebel without a cause
I don't have a proud history when it comes to protest.
I didn't join the Student Tuition Fees march when I was at University. I didn't march against the Iraq war. And I only went to one 'Stop The Poll Tax' meeting as a teenager.
Emmeline Pankhurst I am not.
But last year, I decided to change.
If you don't stand for anything…
In October 2018 I attended the People's Vote march in Central London. And in November 2018, I took O to the Extinction Rebellion climate change protest.
Together with D and another small family of lovely friends, we headed to Waterloo Bridge and took our places, sitting in the middle of the road.
We were there to lend our voices, insignificant as they were, to a larger movement. To show that we cared. And to support the people who were risking arrest by making a stand.
The day was uplifting, good-natured and incredibly peaceful.
Police chatted amiably with the crowd while the kids drew chalk flowers on the road, and musicians threaded through the bustle along the bridge, lifting spirits in their wake.
The organisers handed out flags and O was enthusiastic about waving one. It was a proud moment, even if – at 2 & 1/2 – she had little understanding of why we were there.
When I think back to my friend, spluttering into her wine glass, questioning my intentions, I think of this moment.
And I recall what I said in response.
I choose to march now because, as a child, I remember my dad taking part in countless protests.
He supported the miners' strikes, marched for free education, and protested against injustice meted out by the cruel 70s and 80s Tory government.
I want O to see that, even if protest seems futile, even if it seems pointless and that 'no one cares anyway', her mum cared.
Her mum and dad cared enough to stand up against the things that they felt were wrong. Like leaving the EU. Like climate change.
And to show her that there are thousands of others, like us, who feel powerless but are prepared to join together to make their voices heard. If only you step out of your comfortable bubble and join.
Join the protest. Join the people. Join the rebellion.
Related stuff:
Find out how you can act now with Extinction Rebellion.
Sign the petition to demand a People's Vote.
10 Things you can do to save the planet from WWF.